OBJECTIVE
To facilitate the professional integration of young adults supported by the association into Cambodian society and promote equal opportunities in higher education.
PROJECT
For students who wish to continue their studies, the association offers personalized follow-up and support to help them in their choice of academic and professional orientation.
Academic orientation and follow-up of University achievements
Krousar Thmey continues to monitor and provide personalized support for young people finishing secondary school. The students receive comprehensive information on higher education, enabling them to choose the studies, university or schools best suited to their abilities and skills.
Krousar Thmey also monitors improvement in public policies related to access to higher education for children with disabilities and regularly participates in meetings or workshops organized by the Ministry for Education on inclusive education in Cambodia.
Career counselling
The Counselling department selects good quality vocational trainings for those who do not wish to pursue studies at the university. The foundation also provides the necessary technical support to the vocational training centers to ensure the quality of the training.
Students benefit from personalized support with their needs: job seeking, startup in entrepreneurship, workshops, further training and field visits. Krousar Thmey also ensures support for employers.
MAKE A DIFFERENCE!

$100 per month – 1 sign language interpreter for the national TV news program
$5 per book (8 subjects per student) – edition of a school manual in sign language
TESTIMONY
Veha, 18 years old, catering apprentice

Veha left the family home of Battambang 1 in January 2015. Originally from Poipet, he was living in the street with his two younger brothers, when they were identified by the social workers of Krousar Thmey.
Read his story
They lived together in the family home of Battambang 1 for almost 8 years. Veha has always been a relatively serious student, of a medium class level. However, given the delay he had accumulated before entering school, it was difficult to imagine him go on to the baccalaureate. After a meeting with the department of academic and career counselling, Krouar Thmey partner Mith Samlanh (Friends International) proposed him to join a training course. Even though he was sad to leave school and the family home, Veha chose to seize this opportunity. He initially started training as an electrician but it did not meet his aspirations. After discussions with the team of the guidance department, Mith Samlanh allowed him to reorient himself in the catering field.
His new training began with theoretical courses (English, Khmer, hygiene, introduction to accounting) and some practical lessons focused on service and washing. For 2 months, he works in the training restaurant of Mith Samlanh as a waiter. He takes orders and serves the dishes. In a month, he will start studying cooking and preparing cocktails. In four months, he will be implementing his new skills in the Khmer cuisine restaurant, Romdeng.Veha is satisfied of his new study framework. He likes to discover international cuisine and enjoys living in Phnom Penh; he is housed in the Temporary Center in Chamkar Morn, where he lives with a dozen other young people also attending vocational training. He hopes that this training will allow him to become a chef.
students are now in university
universities welcoming students with disabilities
students are in vocational training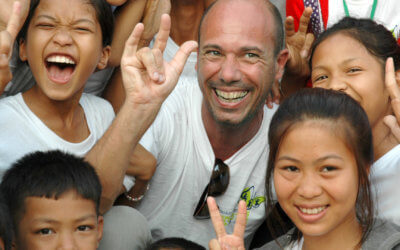 Benoît Duchâteau-Arminjon, founder of Krousar Thmey, received for the second time an award from World of Children honoring his action and that of the Foundation for the benefit of underprivileged children in Cambodia. Visit the page dedicated to Korusar Thmey To help...
read more