TRANSFER OF KROUSAR THMEY SCHOOLS TO THE CAMBODIAN AUTHORITIES
OBJECTIVE
To enable children with disabilities to be integrated into the Cambodian educational system and thus provide greater equality of opportunity for all children.
OUR APPROACH
Initiated in 2011, the transfer of specialized schools to the Cambodian authorities was formalized at the start of the school year in November 2018. The schools have now become public institutions, under the strategic leadership of the Department of Special Education (DSE) of the Ministry of Education, Youth and Sports. Like all public schools, their budgetary and administrative management is decentralized to the provincial education offices from which they report.
In parallel, the National Institute for Special Education (NISE), created in 2017 and headed by Mrs. Phalla NEANG, former coordinator of the education program for blind children of Krousar Thmey, is now officially operational. Mainly in charge of the training of specialized teachers and the development of curricula, it is also interested in the production of adapted resources. The Braille workshop and the Sign Language Committee are under its responsibility.
Learn more about the teacher training project
In order to better support this transition, Krousar Thmey retains a role as technical advisor to the ministry in terms of teaching practices, the status of staff, and adapted care of students with disabilities. The Foundation also continues to carry out various projects for the creation of educational tools and resources, the screening and the inclusion of children with disabilities.
<! ========= Cool Timeline PRO 2.2 =========>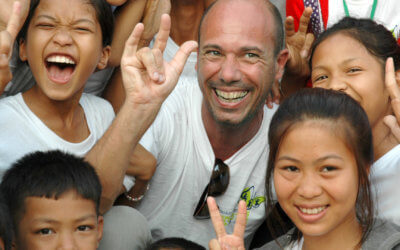 Benoît Duchâteau-Arminjon, founder of Krousar Thmey, received for the second time an award from World of Children honoring his action and that of the Foundation for the benefit of underprivileged children in Cambodia. Visit the...
read more