general presentation of Krousar Thmey
cultural and artistic development program
Education for deaf or blind children program
Academic and career counselling program
health and hygiene program
INVITATION / SILOAM CENTER FOR THE BLIND
---
The South Korean institution is committed to children with visual impairments in Cambodia in collaboration with Krousar Thmey, DDP, ABC and CDMD. A ceremony is organized on June 27, 2017 at Phnom Penh Thmey school for the official handing over of the generous donation of SILOAM.
KROUSAR THMEY IN THE NEWS
PRESS ARTICLE / THE PHNOM PENH POST
"Classical arts not a priority in schools today"
published 07.25.17
---
Traditional Cambodian art forms such as classical dance and music have been passed down throughout the generations as a way for children to learn and preserve the meaning of their culture. However, as the education sector changes, gaining knowledge of the arts at a young age is proving less essential for the Kingdom's public schools…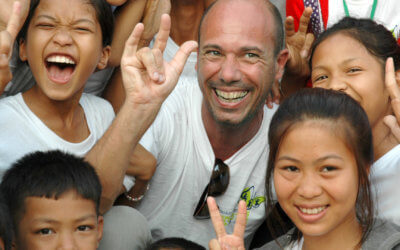 Benoît Duchâteau-Arminjon, founder of Krousar Thmey, received for the second time an award from World of Children honoring his action and that of the Foundation for the benefit of underprivileged children in Cambodia. Visit the page dedicated to Korusar Thmey To help...
read more