OBJECTIVE
Ensure a stable environment for the child, also by giving him access to education, in order to enable him to integrate into society.
PROJECT
For those who are orphans or cannot be reintegrated into their families, the protection centers provide protecting environment to the child while still being open to the community. The children are housed, fed and listened to; they take part in the daily life of the center and attend the public school like other children.
Whenever possible, family bonds are maintained and encouraged. Assessments of the family situation of children are regularly conducted. If a significant improvement is noted and there are no risks for the children, they leave the center and are reunited with their close relatives.
ACTIVITIES
Enrollment in public school
Psychological support
Sociability and respect of a Cambodian way of life
Awareness of hygiene rules
Family reintegration
TESTIMONY
Sokhim, 21 years old, welcomed in protection center
Before being referred to the protection center, Sokhim and her sisters lived in the streets of Phnom Penh with their mother, who could no longer support them, following  the death of their father.
Read her story
 After a few months at the temporary center of Psar depot, they all joined the Siem Reap protection center, the situation of her mother not allowing the siblings to live by her side. "My arrival at the center changed a lot for me. First of all, I regained weight and made a lot of friends; before that, me and my sisters felt pretty alone. Here we can share our concerns with the other children, we support each other. Also, the staff is very nice to us, and we have plenty of activities. But above all, I was able to go to school at last; back in the days my mother could not afford to pay our tuition. Even if I am a few years late, next year, I should get my graduation diploma. I would like to meet the academic counselor of Krousar Thmey because I would like to study marketing. "
MAKE A DIFFERENCE!
$50
 – food and clothes expenses for one child for one month
$10 – cost of extracurricular activities (English, I.T., cultural activities) per children per month
Area of work: Child protection
Duration: undetermined
Location: Provinces of Phnom Penh and Siem Reap
Beneficiaries: underprivileged children, street children and their families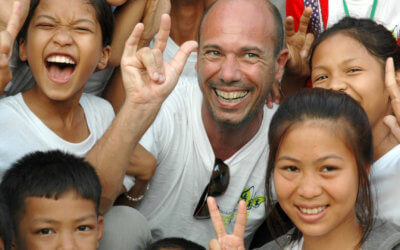 Benoît Duchâteau-Arminjon, founder of Krousar Thmey, received for the second time an award from World of Children honoring his action and that of the Foundation for the benefit of underprivileged children in Cambodia. Visit the...
read more
This Friday, join us at the META HOUSE in Phnom Penh to (re)discover the documentary "The Children of Krousar Thmey" and meet with Benoît Duchâteau-Arminjon a.k.a. Bénito , the founder of the organization. We hope to see you there! See the event on Facebook 
read more