ACADEMIC AND CAREER COUNSELLING 
OBJECTIVE
To favor the socio-economic integration of students with disability by facilitating their access to higher education, vocational training and employment. Favoriser l'intégration socio-économique durable des enfants en situation de handicap sensoriel en facilitant leur accès aux études universitaires, à la formation professionnelle et à l'emploi.
THE PROJECT
Children with disability face many challenges when finishing their education. Their specific needs in terms of adapted resources and skills, combined to misconceptions from representatives of the higher education sector and the job market hamper their equal participation in society, which is however an essential factor of their integration. Krousar They thus supports them to operate a smooth transition from the special schools to a more independent way of life.
ACTIVITIES
Individual or collective support
Equipment loan
Production of adapted resources
Soft skills curriculum development
Training of trainers and specialized teachers
networking with potential employers
Long Eng, 20 years old, low vision students at university
Born with loss, Long Eng is from a small countryside village around Kampong Cham. She started to study management in 2018 after passing her final examination at the end of grade 12 at Krousar Thmey school.
Read her story
Since I left Krousar Thmey school, there is plenty of things that I have to undertake by myself. For instance, I cannot benefit from boarding anymore, thus I had to move in some friends 'apartment in the city in order to decrease rent fee. My parents are farmers and are not able to support me financially. This is the reason why my older brother never could study at university; he had to find a job at a young age. Luckily, Krousar Thmey still supports me during my first year of college. When I enrolled at university, I received a computer – very useful for information search or assignments – and I also get a monthly allowance of $50. It does help me a lot, but of course it is not enough to meet all my needs. Therefore, I needed to find a day job. As I am low vision, I only found temporary jobs so far.
MAKE A DIFFERENCE!

$500 – computer for a blind student joining university
$20 — ctransportation costs for one student to attend a training
Area of work: Education for deaf or bling children, awareness raising
Duration: 2018-2020
Location: Phnom Penh, Siem Reap, Battambang, Kampong Cham
Beneficiaries: children with disability,specialized teachers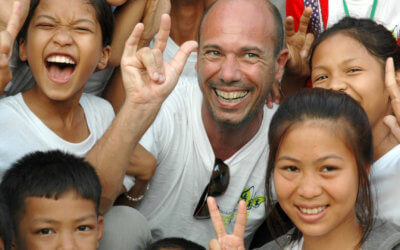 Benoît Duchâteau-Arminjon, founder of Krousar Thmey, received for the second time an award from World of Children honoring his action and that of the Foundation for the benefit of underprivileged children in Cambodia. Visit the...
2500 children in the public schools of Sen Sok district will benefit from a hearing screening organized in collaboration with the School Health department of the Cambodian Ministry of Education, in order to identify children...
Discover the video of our awareness campaign promoting the right to education for all, including children with disability, which took place in Stung Treng and Preah Vihear provinces.