OBJECTIVE
To raise awareness of the issue of disability in Cambodian society.
To promote access to education and employment for young people with visual or hearing disabilities.
To facilitate the integration of people with disabilities.
<h6><span style="color: #11568c;">PROJECT
Krousar Thmey has always been strongly mobilized to change mentalities through awareness-raising actions, aimed at promoting the identification of children with disabilities, facilitating their access to appropriate structures and encouraging their proper integration in harmony with their peers. The increasing involvement of the Ministry of Education with the transfer of specialized schools to the Cambodian educational authorities, suggests that the awareness of the general public as well as actors of the education system and the job market may soon be undertaken by the authorities themselves. In the meantime, Krousar Thmey wants to support them in setting up an effective awareness program for the benefit of schoolchildren and the entire population with disabilities.
ACTIVITIES
Introduction conferences of sensory disabilities in universities
Awareness-raising roadshow
Family support with registration
Inclusive or integrated class openings in public schools in remote areas

TESTIMONY
Theany, 19 years old, in grade 9 in Siem Reap school
Theany participate in the campaign for 5 years now. She is still as thrilled to join each summer. She really enjoys meeting her mates from other schools; it is a nice moment to share all together.
Read her story
She is always impressed by the number of people attending the show each night and really proud to perform in front of them. She finds it gratifying that her work will help other children with disabilities to access education, thanks to the message spread during the campaign. At first, it was difficult for her to dance; as she cannot hear the music, her teacher has to mark the rhythm and guide her visually. "It was really confusing! When I arrived at Krousar Thmey school, I didn't know a thing. I first learnt how to write and read : getting these basic skills was already a great opportunity! But I went way further, as KT provided me with Khmer, English, IT and arts lessons." If she considers herself a good dancer, she still has progress to make regarding other school subjects. Indeed, she wishes to become an English teacher in sign language for hearing impaired students. It is for certain that her enthusiasm and her motivation, on which her teachers can rely anytime, will help her overcome any difficulties!
MAKE A DIFFERENCE

350$ – 1 set of traditional music instruments
35$ – communication tools distributed in 1 day of campaign
Area of work: Education for blind or deaf children, awareness 
Duration : undetermined
Lieu : Phnom Penh, Siem Reap, Battambang, Kampong Cham, 2 remote provinces per year (in 2018, Stung Treng and Preah vihear)
Beneficiaries : children with sensory disability,  populations living in remote areas, members of the education system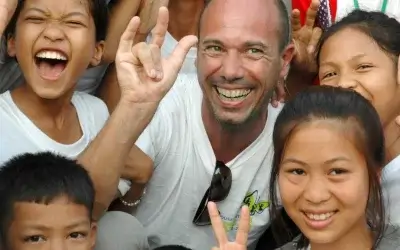 Benoît Duchâteau-Arminjon, founder of Krousar Thmey, received for the second time an award from World of Children honoring his action and that of the Foundation for the benefit of underprivileged children in Cambodia. Visit the page dedicated to Korusar Thmey To help...
read more