OBJECTIVE
To strengthen and develop the skills of specialized teachers in Krousar Thmey's schools.
To train teachers of the public education system for special needs pupils.
PROJECT
Over the last 25 years, Krousar Thmey has developed a unique expertise in Cambodia regarding education for children with visual or hearing disabilities. Attentive to the quality of the education offered, the foundation has always set up training sessions to enable teachers to perfect their skills.
The certification of the first class of specialized teachers of the country, trained on the basis of 3 curricula developed by Krousar Thmey with the support of UNICEF, took place between December 2018 and October 2019. 18 teachers successfully passed the training, among 10 specialized teachers for hard-of-hearing or deaf students and 8 specialized teachers for visually-impaired or blind students.
The second class of specialized teachers started in January 2020 with the attendance of 20 teachers.
Teacher training is now under the responsibility of the National Institute of Special Education (NISE).
At the same time, Krousar Thmey is working with the Institute to reinforce the capacity of in-service teacher trainers and teachers.
ACTIVITIES
Support with the creation of framework documents (curricula, training plans)
Reflection workshops for the development of teacher training and evaluation
Capacity building of the NISE trainer team
Continuing training of teachers
Theany, 19 ans, étudiante sourde participant à la campagne
Cela fait 5 ans que Theany participe à la campagne de sensibilisation de Krousar thmey, et chaque été elle est toujours aussi motivée. Ce qu'elle apprécie est de pouvoir retrouver ou rencontrer les étudiants des autres écoles de Krousar Thmey ; ils partagent toujours de bons moments ensemble.
Découvrez son témoignage
Elle est également très impressionnée par le nombre de personnes qui assistent au spectacle chaque soir ; elle est très fière de se représenter devant eux, et que son travail aide d'autres enfants en situation de handicap à accéder à une éducation de qualité, grâce au message délivré durant la campagne
Au début, cela s'est révélé très difficile de danser ; comme elle ne peut pas entendre la musique, son professeur doit marquer visuellement le rythme à suivre. C'était assez perturbant ! "Lors de mon arrivée à l'école de Krousar Thmey, je ne savais rien faire. J'ai donc commencé par apprendre à lire et écrire ; pouvoir acquérir ces compétences fondamentales représentait déjà une opportunité fantastique ! Mais je suis allée bien plus loin, puisque le cursus de Krousar Thmey inclue également des cours de khmer, d'anglais, d'informatique et d'arts." Si elle se considère comme une bonne danseuse, elle a des progrès à faire dans les autres matières. D'autant plus qu'elle souhaite devenir enseignante d'anglais en langue des signes pour les élèves déficients auditifs comme elle. Nul doute que son enthousiasme et sa motivation, sur lesquels peuvent s'appuyer ses enseignants viendront à bout de ses difficultés !
Area of work: Education for deaf or blind children
Duration: 2019-2020
Location: Provinces of Phnom Penh, Siem Reap, Battambang, Kampong Cham
Beneficiaries: children with disability,  teachers and trainers of the public education system, Ministry of Education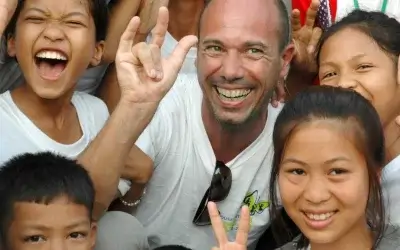 Benoît Duchâteau-Arminjon, founder of Krousar Thmey, received for the second time an award from World of Children honoring his action and that of the Foundation for the benefit of underprivileged children in Cambodia. Visit the page dedicated to Korusar Thmey To help...
read more