SCHOOL OF KHMER ARTS AND CULTURE
OBJECTIVE
To offer a quality teaching of traditional khmer arts for children from nearby public schools, and give access to Cambodian culture for population living in remote areas.
PROJECT
For 20 years, the school of arts and culture of Serey Sophon is entirely dedicated to teaching traditional Khmer music and dance, sculpture and traditional drawing. Located in the province of Banteay Meanchey, it welcomes each year more than 1,000 students, from grade 7 to grade 9, coming from public schools. During the school holidays from August to October, the school is also open to all those interested in the program.
ACTIVITIES
Traditional music, dance, painting and sculpture lessons 
Introduction classes open to all during the summer holidays 
Shows and performances of the troupe of the school 
TESTIMONY
Sophanin, I am 13 years old, student in scuplture
My name is Morn Sophanin, 13 years old. I am currently studying in grade 7 at Serei Sophoan Primary School.
Read his story
I started learning sculpture when I was in grade 4 during summer class and I have been participating it since then.With the help of my teachers, I keep on improving my technics. As a result, I can now make numbers of sculptures by myself such as the Fish, the King of Monkey, Apsara, the Dragon, the Rose… and it makes me very proud ! After I finish sculpture course, I would like to join the drawing class. In the future, I would like to become a professional artist to keep our Khmer culture alive."
MAKE A DIFFERENCE!
350$ 
– set of traditional music instruments
Area of work: Cultural and artistic development
Duration: undetermined
Location: Beantey Meanchey province
Beneficiaries : children from the public schools, general audience interested in traditional arts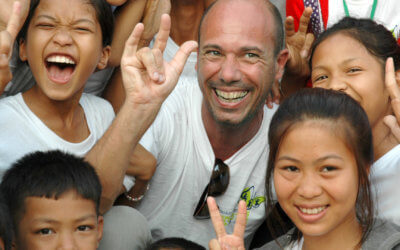 Benoît Duchâteau-Arminjon, founder of Krousar Thmey, received for the second time an award from World of Children honoring his action and that of the Foundation for the benefit of underprivileged children in Cambodia. Visit the...
read more