EDUCATION FOR DEAF OR BLIND CHILDREN
OBJECTIVE
To enable children with visual or hearing disabilities to find their rightful place in society by providing them with access to specialized education and support to prepare them for working life.
Since 1994, Krousar Thmey has been committed to the education of deaf or blind children and their integration into society. A network of five special schools was created and administered for 25 years, until its transfer to the Ministry of Education, Youth and Sports in 2019, thus creating the first public system of special education in Cambodia.
>> Learn more about the transfer of the special schools
Today, the Foundation assists the educational authorities in the implementation of quality education in the five Special Education High schools and inclusive classrooms in public schools, while developing new projects aimed at improving the inclusion of children with disabilities in the education system and the society, by providing them with adapted learning tools and promoting their access to training and employment.

TESTIMONY
Danita, former student at Battambang special school, now a radio hostess 
Danita, a former student of Battambang Special School, is currently supported by the Academic and Career Counseling project of the Education program. She is working as a radio hostess while studying for her fourth year Bachelor's degree in Business Management at Battambang University. She receives monthly support and follow-up guidance from the project manager.
Read her story
"
My name is Danita, I am 22 years old and single. I am from Battambang province. I am currently working as a radio hostess at Voice of the Blind for people with disabilities. I feel at peace and happy with my job and my workplace. I am also in my fourth year at Battambang University. My field of study is business management. As I cannot see, I face many problems and challenges in my studies, to travel, do research and so on… However, thanks to Krousar Thmey, I received a computer and continue to receive monthly financial support to be able to complete my studies. 
I had the opportunity to study at the special school for deaf or blind children in Battambang. I began my studies at Krousar Thmey school on October 2, 2005. Before joining the special school, I did one year in a public school, but it was very difficult for me. That's why I joined a special school. I started in Grade 1 and I was very happy because all the teachers were well trained to teach blind and deaf children. On top of that, they took good care of us by providing us with school materials, food and accommodation. All the teachers were very kind and took care of us as if we were their own children. They taught us what they knew and helped us with our studies every day.
For me, studying at a special school changed my life, I went from being a helpless blind girl to a member of the Voice of the Blind staff. As a person with a disability, I would like to encourage all people with disabilities to do their best to improve themselves and succeed in the future by studying and following the advice of teachers. Don't lose heart and keep moving forward!"
DISCOVER THE PROJECTS OF THIS PROGRAM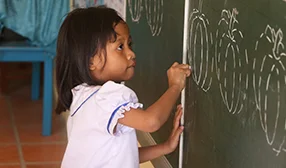 SUPPORTING THE SPECIAL
SCHOOLS
To offer blind or deaf children an education adapted to their disability, in line with the National Education program.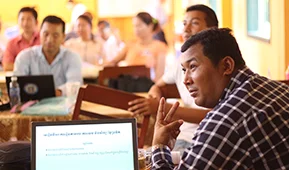 To strengthen and develop the skills of specialist teachers in Krousar Thmey schools and train teachers of the public education system for special needs pupils.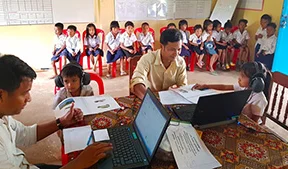 SCREENING AND SUPPORT WITH ADAPTED EDUCATION FOR CHILDREN WITH HEARING IMPAIRMENT
To screen children form the public education system and to refer them to the adapted structures in regards with the level of disability.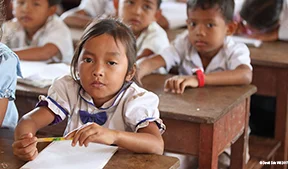 TOWARD INCLUSIVE EDUCATION
FOR LOW VISION STUDENTS
To allow visually impaired students to follow their education on an equal footing in the public education system, and promote the integration of children with disabilities in Cambodian society.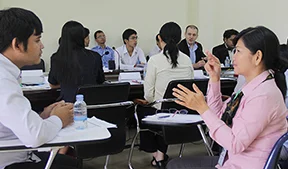 ACADEMIC AND CAREER COUNSELLING
To help the young people in our programs to build their future by facilitating their access to higher education, training and employment.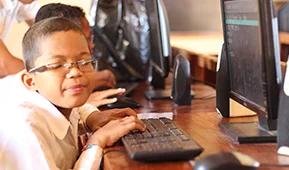 ACCESS TO ICTs FOR CHILDREN
WITH VISUAL IMPAIREMENT
To strengthen ICT education and learning for students with visual impairment in Cambodia, in order to ensure an effective transfer of the special education program to the national authorities.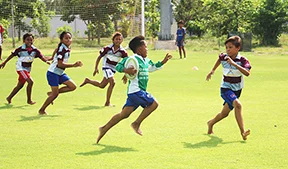 ACCESS TO SPORT FOR CHILDREN
WITH HEARING OR VISUAL IMPAIRMENT
To improve opportunities for participation in social life through access to sports for children and youth with visual and hearing disabilities in Cambodia.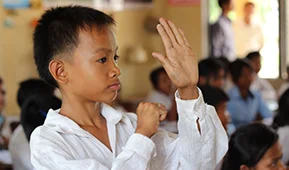 DEVELOPING CAMBODIAN SIGN LANGUAGE

To develop a comprehensive and recognized Cambodian sign language rooted in the local culture and based on the linguistic experience of deaf people. This project will be transferred to the Cambodian authorities by 2020.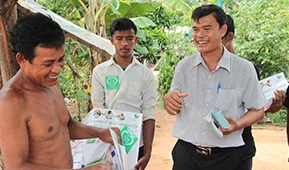 To raise awareness of the issue of disability in Cambodian society and promote access to education and employment for young people with visual or hearing disabilities.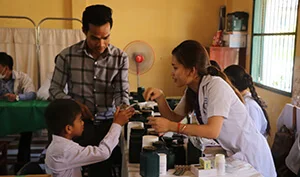 To improve and preserve the health of children schooled in the special schools by providing them with general and specialized medical care.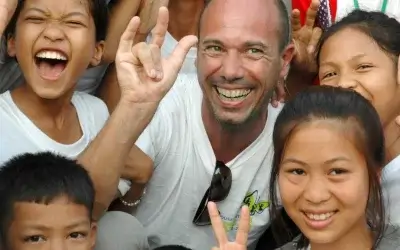 Benoît Duchâteau-Arminjon, founder of Krousar Thmey, received for the second time an award from World of Children honoring his action and that of the Foundation for the benefit of underprivileged children in Cambodia. Visit the page dedicated to Korusar Thmey To help...
read more