PROVIDING ACCESS TO QUALITY ICT CLASSES FOR STUDENTS WITH VISUAL DISABILITY
OBJECTIVE
Strengthen ICT education and learning for students with visual impairment in Cambodia to ensure an effective transfer of the special education program to the national authorities
PROJECT
To show skill with the information and communication technologies has become essential to ensure a good professional integration, including for visually impaired students. In view of this, Krousar Thmey wants to improve their teaching in its specialized schools. Thanks to the capacity building of teachers, the provision of equipment and the development of pedagogic resources, the foundation has now implemented courses adapted to the children's disability.
ACTIVITIES 
Development of a national curriculum for ICT education for visually impaired students
Acquisition of specific skills for computer teachers
Computer room equipment
Development of educational resources
Phoan, 21, blind student at Phnom Penh Thmey School
Before joining the special school, I did not know anything about computers. When I started learning about ICT , I quickly realized that the main challenge I would have to face would be the level of English required. I remember that I felt lost: I did not know how to touch the keyboard and I had never heard of the software that allows us to read the screen.
Read his story
Today, I know how to use some keys on the keyboard (I do not remember all of them yet) and I can use Youtube! What I appreciate the most now is to use Internet, Facebook and Youtube, which are very useful to follow the news, search information and find relevant lessons to go further in my studies, especially writing scripts and composing poems / songs. During my free time, I use my mobile phone to train, mainly with Facebook and Messenger applications.
MAKE A DIFFERENCE!

650$ = 1 computer station
30$ = 1 MP3 player
5$ = audio book
Area of work: Education for deaf or blind children
Duration: 2017-2018
Location: Special schools in Phnom Penh, Siem Reap, Battambang, Kampong Cham
Beneficiaries : children with visual impairment in the special schools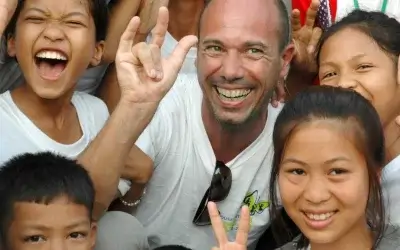 Benoît Duchâteau-Arminjon, founder of Krousar Thmey, received for the second time an award from World of Children honoring his action and that of the Foundation for the benefit of underprivileged children in Cambodia. Visit the page dedicated to Korusar Thmey To help...
read more