CULTURAL AND ARTISTIC DEVELOPMENT
OBJECTIVE
To enable the children to benefit from their cultural heritage and grow by (re)discovering their traditions, arts and crafts.
PROGRAM
From the outset in the refugee camps, Krousar Thmey set up cultural exhibitions for the general public – such as the exhibition "Rice fields : two cultures to be discovered", in all the camps on the Thai border in 1992 –  and initiated art courses for children: music, traditional dances and shadow theater were to continue to live beyond their old masters.  Nowadays, the program is divided into two parts: the School of Khmer arts and culture open all year, and art classes in the structures of the association for all children in care.

TESTIMONY
Ann, 14 years old, musician from the child welfare program
Ann arrived at Krousar Thmey Takmao protection center when he was 5 years old. His life changed a lot since he entered Krousar Thmey's shelter. At 14 years old, he is now studying in grade 6 in public school. Simultaneously, he learned how to play several Khmer traditional instruments such as drum, Roneat and even Skor.
Read his story
"At the beginning, I thought the instruction was really hard! But I have not given up and have kept on practicing, with the help of my teacher." If Ann enjoys learnins how to play new instruments, what he prefers above all is to perform! "I really appreciate to make people happy when they come see my show. What a change compared to the time I used to live in the street, where I felt discriminated, because people were looking down on me… For now, I want to stay focused until I get my diploma. Then, I would like to become a professional artist in Cambodia!" 
DISCOVER THE PROJECTS OF THIS PROGRAM
SCHOOL OF KHMER
ARTS AND CULTURE
To offer a quality teaching of traditional khmers arts for children of the sector, and give access to Cambodian culture for population living in remote areas.
DANCE AND MUSIC FOR DEAF,
BLIND OR DISADVANTAGED CHILDREN
To use arts as a therapy, in order to develop self confidence and provide a mean of expression to children with disabilities or victims of difficult family situations.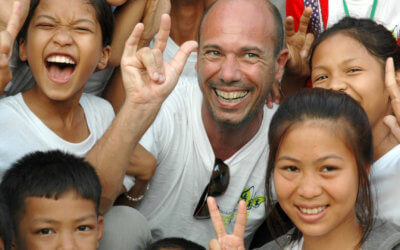 Benoît Duchâteau-Arminjon, founder of Krousar Thmey, received for the second time an award from World of Children honoring his action and that of the Foundation for the benefit of underprivileged children in Cambodia. Visit the...
read more