DANCE AND MUSIC FOR UNDERPRIVILEGED CHILDREN
OBJECTIVE
To use arts as a therapy, in order to develop self confidence and provide a mean of expression to children with disabilities or victims of difficult family situations.
PROJECT
All the children supported in the structures of the foundation benefit from dance and music lessons from a very young age. For them, art represents a formidable way to develop new skills and to express their creativity.
The children of the centers and family houses benefit from regular courses, provided in the structures by specialized teachers, for one to two hours per week.
ACTIVITIES
Traditional music and dance lessons 
Cultural trips and activities 
TESTIMONY
Ties, 22 years old, music teacher at Kampong Cham school
As he is himself a former student of Krousar Thmey, Ties is well aware of the benefit children can gain from art education.
Read his story
"Even though I am not completely blind, it was very difficult for me to integrate public school when I was little. I was 8 when Krousar Thmey's teams came to my village during an awareness campaign.There, I had the chance to live with other children with disability, other than mine. I followed all my schooling in Krousar Thmey school and I have always enjoyed artistic lessons : it has been a meaningful discovery for me. Today, I know what I am capable of and I am proud of my skills, especially in music. In 2011, I was offered to become a music teacher my turn, first on my free time. Then, I got my bachelor's degree in 2014 and at the beginning of September 2015, I became a full-time music teacher at the school. Later, I would like to open my own music school to teach children with or without disabilities."
MAKE A DIFFERENCE!
350$ 
– set of traditional music instruments 
Area of work: Cultural and artistic development, child protection 
Duration: undetermined
Location: Provinces of Phnom Penh, Siem Reap, Battambang, Kampong Cham and Banteay Meanchey 
Beneficiaries: underprivileged children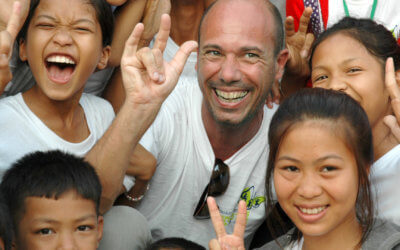 Benoît Duchâteau-Arminjon, founder of Krousar Thmey, received for the second time an award from World of Children honoring his action and that of the Foundation for the benefit of underprivileged children in Cambodia. Visit the...
read more