WORDS AND PICTURES APPLICATION
OBJECTIVE
To enable children with hearing and speech impairments and their relatives and friends access a tool to practice Cambodian Sign Language.
For over 25 years, Krousar Thmey has implemented a unique mix of special and inclusive education for children with sensory disabilities in Cambodia, developing a unique expertise in visual and hearing impairments with an established track record of results, transforming lives through education, and lastingly influencing national policies. Children with hearing disabilities face many challenges in terms of communication, and have specific educational needs requiring adapted resources. As technology is an ever growing means of providing access to education and communication, Krousar Thmey is launching an educative and innovative mobile phone application: Words and Pictures.
Based on a very intuitive interface and simple design, the inclusive application is readily accessible to a very wide audience, and equally useful for families with young children with or without disabilities. Featuring over 500 words relevant to every-day life situations, selected for their suitability to the Cambodian background, the purpose of the application is to offer a fun picture dictionary with integrated sounds and sign language pictograms. 
To download the application on your smartphone, please visit: http://onelink.to/krousarthmey or scan this QR code below. 
Many thanks to Judit van Geystelen for the original idea and design, Open Institute for the development, as well as the Ministry of Education, Youth and Sports of Cambodia, Symphasis Foundation, and Clariant Foundation for their support.
This application is dedicated to Tina.
If you are interested in developing this application in the language of your choice, please contact: sign.picture.dictionary@gmail.com         

DISCOVER THE PROJECTS OF THIS PROGRAM
SUPPORTING THE SPECIAL SCHOOLS
To offer blind or deaf children an education adapted to their disability, in line with the National Education program. 
To strengthen and develop the skills of specialist teachers in Krousar Thmey schools and train teachers of the public education system for special needs pupils.
SCREENING AND SUPPORT WITH ADAPTED EDUCATION FOR CHILDREN WITH HEARING IMPAIRMENT
To screen children form the public education system and to refer them to the adapted structures in regards with the level of disability.
TOWARD INCLUSIVE EDUCATION FOR LOW VISION STUDENTS
To allow visually impaired students to follow their education on an equal footing in the public education system, and promote the integration of children with disabilities in Cambodian society.
ACADEMIC AND CAREER COUNSELLING
To help the young people in our programs to build their future by facilitating their access to higher education, training and employment.
ACCESS TO ICTs FOR CHILDREN WITH VISUAL IMPAIREMENT
To strengthen ICT education and learning for students with visual impairment in Cambodia, in order to ensure an effective transfer of the special education program to the national authorities.
ACCESS TO SPORT FOR CHILDREN WITH HEARING OR VISUAL IMPAIRMENT
To improve opportunities for participation in social life through access to sports for children and youth with visual and hearing disabilities in Cambodia.
DEVELOPING CAMBODIAN SIGN LANGUAGE
To develop a comprehensive and recognized Cambodian sign language rooted in the local culture and based on the linguistic experience of deaf people. This project will be transferred to the Cambodian authorities by 2020.
To raise awareness of the issue of disability in Cambodian society and promote access to education and employment for young people with visual or hearing disabilities.
To improve and preserve the health of children schooled in the special schools by providing them with general and specialized medical care.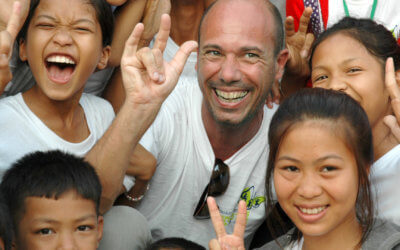 Benoît Duchâteau-Arminjon, founder of Krousar Thmey, received for the second time an award from World of Children honoring his action and that of the Foundation for the benefit of underprivileged children in Cambodia. Visit the page dedicated to Korusar Thmey To help...
read more