CULTURAL AND SPORT ACTIVITIES
OBJECTIVE
To favor the children's emancipation through a variety of activities and make them aware of the world surrounding them. 
PROJECT
In order to allow the children welcomed in the protection structures to grow up and gain confidence. Krousar Thmey offers them the opportunity to discover the world that surrounds them through a variety of activities that complete their studies and allow them to develop new extracurricular skills. 
ACTIVITIES
Sport activities such as skateboarding, rugby, running
Interventions of students from the Cultural and artistic development program 
Traditional Khmer arts practice: dance and music  
Educational activities such as reading and building games 
MAKE A DIFFERENCE!

$35 – cost of Chhoeng instrument (traditional Khmer instrument)
$120 – cost of Samphou instrument (traditional Khmer instrument)
Area of work: Child protection
Duration: undetermined
Location: Centers and family houses in Phnom Penh, Siem Reap, Battambang, Kampong Cham et Banteay Meanchey
Beneficiaries: marginalized children supported in Krousar Thmey's structures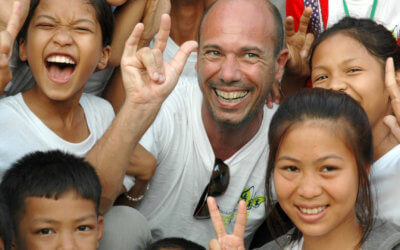 Benoît Duchâteau-Arminjon, founder of Krousar Thmey, received for the second time an award from World of Children honoring his action and that of the Foundation for the benefit of underprivileged children in Cambodia. Visit the...