OBJECTIVE
To welcome children in a safe and caring environment, tailored to their needs.
PROJECT
The youngest and most traumatized children need particular attention to ensure their development in a secure and stable environment. These children are sent to family homes where a couple of Cambodian parents, carefully recruited, trained and followed-up by Krousar Thmey, raise the children from the Foundation as well as their own.
Whenever possible, family bonds are maintained and encouraged. Assessments of the family situation of children are regularly conducted. If a noticeable improvement is noted and there is no risk for the children, they leave the house and are reunited with their relatives.
ACTIVITIES
Enrollment in public school
Psychological support
Sociability and respect for a Cambodian way of life
Awareness of hygiene rules
Family reintegration
TESTIMONY
Chantra, 12 years old, welcomed in a family house
When she first arrived in the family house she was a little bit scared, but her fear quickly turned into excitation when she actually saw the house for the first time. She thought it was a very nice place to live in.
Read her story
She is very happy to have access to school as she was not before when leaving with her aunt. In addition, she can play with other children in the house, especially football. They love it so much sometimes they forget to have lunch! But Sokhy, the mother of the family house, is here to remind them. She really likes Sokhy, because she can talk to her when she's in need. She has some really good time at the family house that she could not have before. For example, for Khmer New Year, all the children went to see the artistic show performed by the student benefiting of Krousar Thmey cultural program. It was a friendly event and she thought the dancing and the costume were beautiful. In the future she wants to be an accountant, because she would like to have a stable job and work in the office." 
MAKE A DIFFERENCE!
$50
 – food and clothes expenses for one child for one month
$10 – cost of 1 compulsory uniform for public school
Area of work: Child protection
Duration: undetermined
Location: provinces of Phnom Penh, Siem Reap and Kampong Cham
Beneficiaries : underprivileged children below 12 years old and their families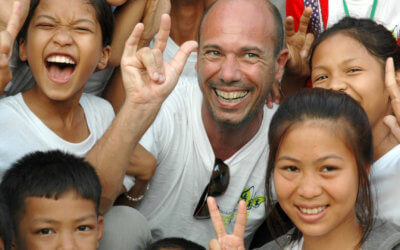 Benoît Duchâteau-Arminjon, founder of Krousar Thmey, received for the second time an award from World of Children honoring his action and that of the Foundation for the benefit of underprivileged children in Cambodia. Visit the...
read more
This Friday, join us at the META HOUSE in Phnom Penh to (re)discover the documentary "The Children of Krousar Thmey" and meet with Benoît Duchâteau-Arminjon a.k.a. Bénito , the founder of the organization. We hope to see you there! See the event on Facebook 
read more