OBJECTIVE
To improve and preserve the health of children welcomed in our structures by providing them with medical care.
THE PROJECT
In order to enable children to grow and flourish in safely, Krousar Thmey devotes careful attention to the condition of hygiene in which they are welcomed and closely monitors their physical and psychological health. The staff of the organization also benefit from this support, as we strive to offer them the best work conditions possible. Krousar Thmey emphasizes the collaboration with private or public local partners of the health sector with a view to limiting its dependence to international organizations.
ACTIVITIES
General medical check-ups
Training and capacity building
Immunizations
Hepatitis treatments
Psychological support
Dental check
Hygiene education
partnerships with local actors of the health sector
Sophorn, health referent in the child welfare program
Sophorn started to work with Krousar Thmey at the age of 17 at Chamkar Mon street children center as a care giver.
3 years later, she was promoted social worker and health advisor in Takmao protection center, which has become like a home for her.
Indeed, she is sharing the everyday life of the children she is taking care of. A proximity judged essential by Sophorn, who monitors more than 20 beneficiaries. "I give them daily advice and basic hygiene education; such as wash their hands, have a bath before school or make their bed and do the laundry… When a child falls ill, I provide the necessary care or accompany him or her to the nearest health center if needed. I really appreciate to work at Krousar Thmey because I can benefit from training along the year, to improve my capacity and respond more efficiently to any kind of situation."[/learn_more]
Area of work: Child protection, health
Duration: 2018-2020
Location: Centers and family houses in Phnom Penh, Siem Reap, Battambang, Kampong Cham et Banteay Meanchey
Beneficiaries: marginalized children supported in Krousar Thmey's structures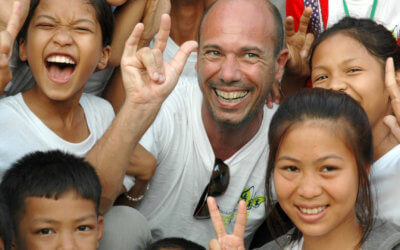 Benoît Duchâteau-Arminjon, founder of Krousar Thmey, received for the second time an award from World of Children honoring his action and that of the Foundation for the benefit of underprivileged children in Cambodia. Visit the...