SCREENING AND SUPPORT WITH ADAPTED EDUCATION FOR CHILDREN WITH HEARING IMPAIRMENT 
OBJECTIVES
To screen children with hearing impairment and to refer them to the adapted educational structures in regards with the level of disability
To support the special schools with the provision of quality education, especially through teachers training
To ensure a proper inclusive education is provided to children with mild hearing loss in the public system
PROJECT
The project plans to screen around 5 000 children in Sen Sok and Chbar Ampov areas (Phnom Penh). Children identified with hearing impairments will be referred to an ENT doctor and fitted with hearing instruments adapted to their level of hearing loss, which also determine which schools to refer the children to : the most severe cases will be referred to special schools located in Sen Sok and Chbar Ampov while the less severe will go back to the public school they were found in.
The project includes strong institutional and individual capacity-building components for teaching and technical staff at the National Institute for Special Education (NISE) and the School Health Department (SHD), two entities registered under the Ministry of Education, Youth and Sports. Indeed in the long term, those local authorities are destined to undertake the screenings and identification of children.
ACTIVITIES 
Screening of children
Provision of hearing aid
Training and capacity building 
MAKE A DIFFERENCE!
300$
= cost of one hearing aid
Area of work: Education for deaf or blind children, awareness
Durée : 2018-2019
Lieu : Phnom Penh province
Beneficiaries: children form public schools in Sen Sok and Chbar Ampov districts, member of the education system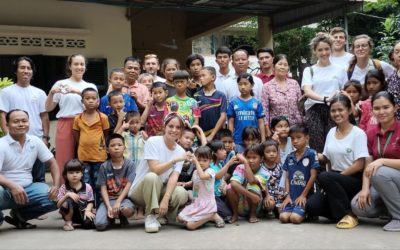 The health of the children in our care is a priority for Krousar Thmey. For more than 20 years, a team of Swiss doctors from Krousar Thmey Switzerland has travelled to Cambodia once or twice a year to monitor the health of the young beneficiaries, in addition to their...
read more