OBJECTIVE
To develop a comprehensive and recognized Cambodian Sign Language rooted in the local culture and based on the linguistic experience of deaf people living in local communities or studying in special schools operated by Krousar Thmey. To offer hearing-impaired people a proper medium of communication conducive to their improved access to education, to the job market, and to other services essential to day-to-day life in Cambodia.
PROJECT
The Sign Language committee was formed in 2013 due to the emergence of a Cambodian Sign Language through various organizations. Including both deaf and hearing members, the committee successfully developed the Khmer sign language and is now responsible for his improvement, adapting textbooks for each grade while circulating a specialized dictionary.
In order to disseminate it to the deaf community of Cambodia, the committee will be in charge of the training of specialized teachers and interpreters. as well as to families and relatives of deaf students that have been identified.
Simultaneously, members of the committee sign the news on two national television channels, TVK and Bayon TV, as well as other relevant programs, helping raise awareness and reach a broader audience.
The committee's premises are located at the Chbar Ampov school, which is also equipped with a laboratory and an audio room.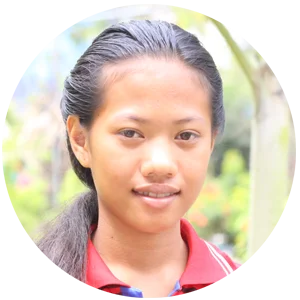 TESTIMONY
Sreyheng, 14 years old, welcomed in protection center
Sreyheng is a 14 years old girl, born in an underprivileged family in Kampong Cham province.
Read her story
 She used to sell firewood to support her siblings and be able to go to school. When her parents got divorced in 2010, she had no choice but to go live with her grandfather. Unfortunately, the old man's incomes were not high enough to cover the expenses of an additional family member. To ensure Heng a brighter future, she was referred to Krousar Thmey protection center in Takhmao in 2011. "My life changed noticeably. I didn't have to worry about earning money every day any more. In the center, I had access to a decent accommodation, nutritious food, clean clothes… Furthermore, Krousar Thmey bore all my scholarship fees, such as my new uniform or the necessary materials." 
MAKE A DIFFERENCE

100$ = 1 Sign language interpreter on national television for 1 month
5$ = Publication of a sign language book (around 8 subjects per student)
deaf students benefiting from training
teachers benefiting from training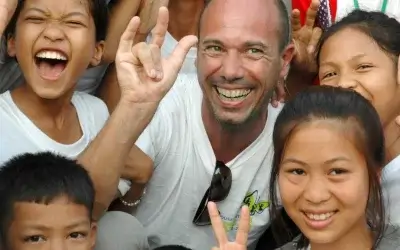 Benoît Duchâteau-Arminjon, founder of Krousar Thmey, received for the second time an award from World of Children honoring his action and that of the Foundation for the benefit of underprivileged children in Cambodia. Visit the page dedicated to Korusar Thmey To help...
read more