The health of the children in our care is a priority for Krousar Thmey. For more than 20 years, a team of Swiss doctors from Krousar Thmey Switzerland has travelled to Cambodia once or twice a year to monitor the health of the young beneficiaries, in addition to their regular visits to local doctors. However, to ensure the sustainability of its actions, Krousar Thmey is also turning to other committed and supportive organisations.
In this context, the Foundation signed a new partnership with the French NGO Help Kampuchea last May.
Help Kampuchea was set up in 2012 to provide high-quality medical care to disadvantaged people in Cambodia. Their first mission with Krousar Thmey took place from 17 to 26 July. Led by six volunteers, including a doctor, physiotherapists, an etiopath and a nurse, they examined 118 children in long-term and temporary protection centres, as well as in family houses.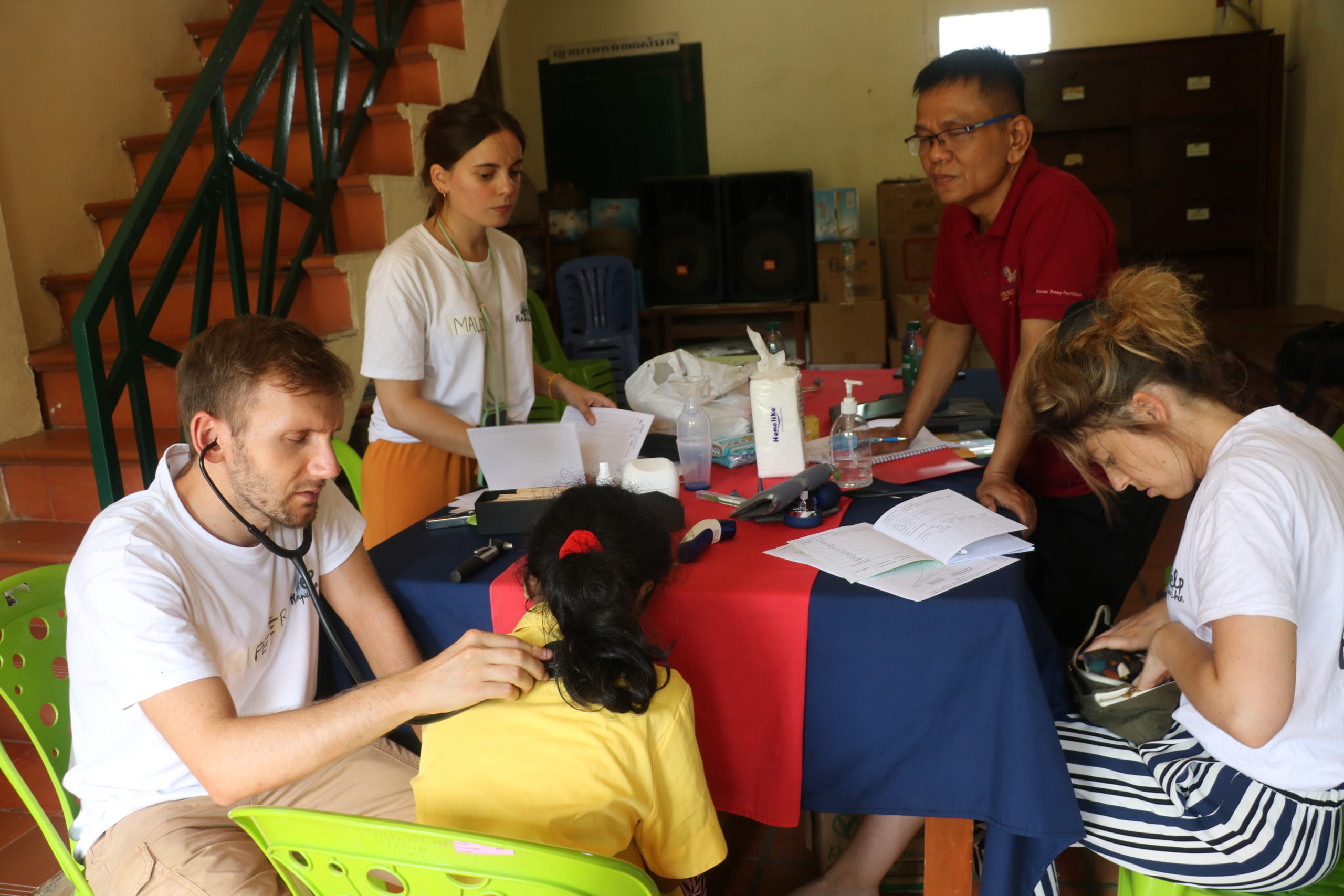 The Help Kampuchea team making a medical check-up at the Takhmao protection centre, with Krousar Thmey's health adviser, Sothy KEO.
The young health professionals also seized the opportunity to be dazzled by Cambodia and its wonders.
At the same time, 63 members of Krousar Thmey staff and parents of children from outside cases received first aid training. The sessions were both theoretical and practical, and provided a reminder of the correct actions to take in case of an accident, such as cardiac massage, clearing the airway and placing the patient in the lateral safety position. The teams were also able to practise treating wounds and reacting to convulsions.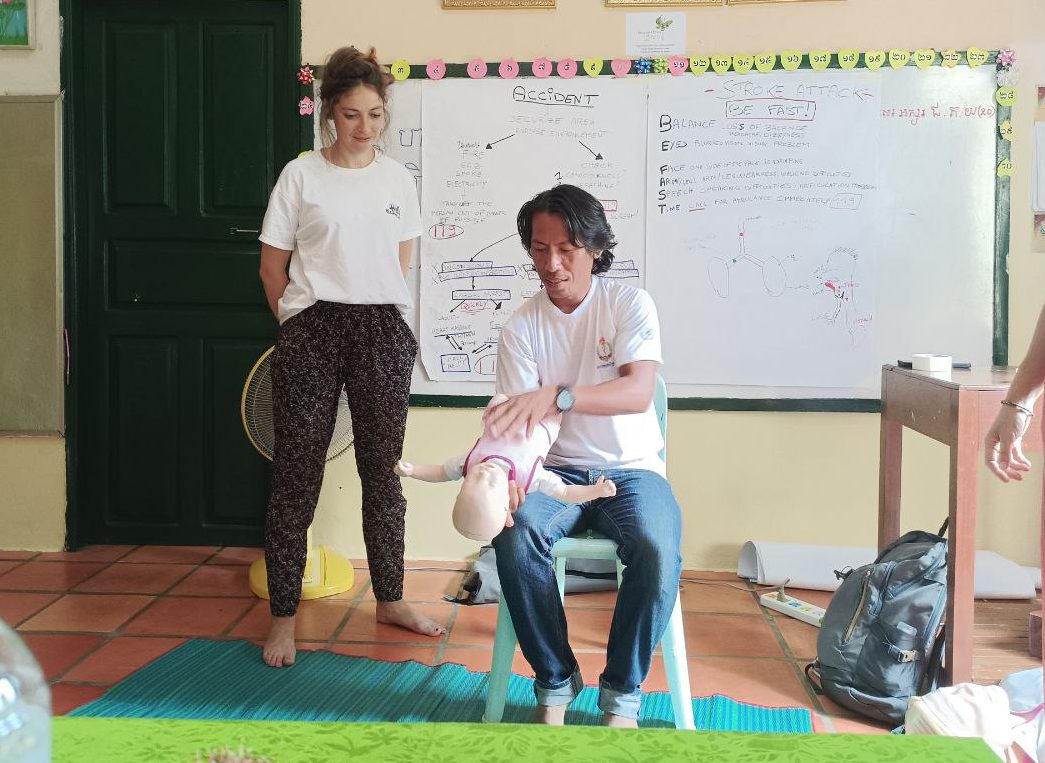 During the practical exercises, Help Kampuchea used medical dummies to make the explanations more concrete, here at the Poipet temporary protection centre.
Krousar Thmey is delighted with this new partnership and warmly thanks the Help Kampuchea team for its professionalism and friendly approach. The next mission is already scheduled for the summer of 2024.
About Krousar Thmey
Krousar Thmey is the first Cambodian organisation to help disadvantaged children, founded in 1991 in the Site II refugee camp in Thailand.
Krousar Thmey offers a portfolio of cross-cutting programs and projects supporting 2,574 children in their development in 2022: Child Welfare, specialized and inclusive Education for Deaf or Blind Children, Cultural and Artistic Development, Academic and Career Counseling, as well as Health and Hygiene. In 2022, more than 3,700 people have benefited from the Foundation's activities.
In the spirit of sustainable action, Krousar Thmey ensures that its support does not lead to any privilege, dependence or disparity in the community.
Krousar Thmey's main principle is the development of projects led by Cambodians for Cambodians. Only two European volunteers provide the organization with support in communication, donor relations, and grant contract management.
Apolitical and secular, the action of Krousar Thmey has been acknowledged internationally for its impact, capacity for innovation and sustainability.