OBJECTIVE
Offer a stable and reassuring accommodation solution to the child before considering reintegration into the family.
PROJECT
Temporary centers welcome children for a period not exceeding 6 months. The child is provided with a stable environment and informal education, while waiting to be reintegrated into the family or to another structure adapted to his or her needs.
Temporary center care:
First stage: day or night meetings with children by social workers in the streets of the city or through local authorities.
Second stage: admission in one of the centers with the approval of the authorities and legal guardians.
Third stage: from the arrival of the child, for a period ranging from 3 to 6 months: assessment of the family situation with a view to reintegrating the child into his family.
Fourth stage: family reintegration or transfer into one of our long-term structures: protection center or family house
ACTIVITIES
Literacy
Psychological support
Leisure and social activities
Family assessment
Reintegration with maintenance in the family
TESTIMONY
Rachna, social worker at the Poïpet temporary center
Rachna has been working for Krousar Thmey for 4 years. The main part of his work is to participate in outreach sessions, in order to identify children living in the streets and establish a link with their families.
Read her story
"We work with local authorities to identify families in need of help. Then we go to meet them to introduce Krousar Thmey's child protection program. Sometimes we invite the parents to visit the center and meet the teams if they want to. This relationship with families is very strong, and very important to be able to reintegrate the children thereafter, which is the goal we try to reach as far as possible. In the center, children benefit from informal education and a stable living environment, which many have never experienced. All of them have experienced difficult family or economic situations before being welcomed here, and it is always a great joy to see them flourish, create bonds with each other and simply enjoy their childhood. "
MAKE A DIFFERENCE!
$120 – financial support for a year for one child in outside case
$50 – food and clothes expenses for one child for one month
Area of work: Child protection
Duration: undetermined
Location: provinces of Phnom Penh and Banteay Meanchey 
Beneficiaries: underprivileged children, street children and their families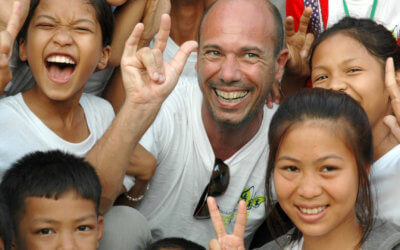 Benoît Duchâteau-Arminjon, founder of Krousar Thmey, received for the second time an award from World of Children honoring his action and that of the Foundation for the benefit of underprivileged children in Cambodia. Visit the...
read more
This Friday, join us at the META HOUSE in Phnom Penh to (re)discover the documentary "The Children of Krousar Thmey" and meet with Benoît Duchâteau-Arminjon a.k.a. Bénito , the founder of the organization. We hope to see you there! See the event on Facebook 
read more