ACCESS TO SPORT EDUCATION FOR CHILDREN WITH HEARING OR VISUAL IMPAIRMENT
OBJECTIVE
Improve opportunities for participation in social life through access to sports for children and youth with visual and hearing disabilities in Cambodia.
PROJECT
In Cambodia, physical education and sport are a component of the National Curriculum from grade 1 to 12. However, due to a broad lack of financial and human resources and adequate facilities and equipment, most schools are unable to offer quality sport hours to their students. Even when such activities are available, their access is denied to children with disabilities.
Krousar Thmey has implemented sports courses (rugby, football for the blind, handball, basketball and athletics) and occasional activities with the help of local partners. In order to ensure the safety of children during practice, equipment and facilities are also provided to the schools.
ACTIVITIES 
Teacher training
Sports classes
Organization of inclusive events
School equipment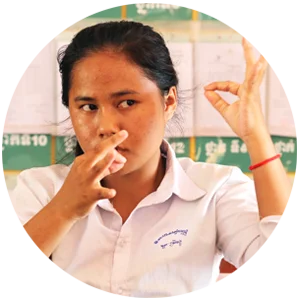 TESTIMONY
Sreyno, deaf, passionate about sports
She discovered this passion by participating in the rugby activities organized by Krousar Thmey in partnership with the association Kampuchea Ballop.
Read her story
This project, initiated in September 2015, aims to promote access to sport for children with visual or hearing disabilities. "I started playing rugby three years ago. Before that, I did not know at all; I only played football occasionally. But not anymore, because rugby is so much fun! I really appreciate the combativeness it requires. My family and friends support me very much in the practice of this sport, they always want to know where and when I play! The fact that I play with people with or without disabilities does not change that much once on the field. We understand each other very well. In February, I left for Thailand to participate in the Asian Rugby Tournament. I was the only deaf girl in the Cambodian team. If it was sometimes complicated to communicate with my teammates outside the field, I really enjoyed this moment. My dream would be to become a professional player; I do not know if it's possible, but my coach at Krousar Thmey supports me and helps me to improve."
MAKE A DIFFERENCE!
100$ = 3 cécifoot balls
20$ = sport outfit for one child
Area of work: Education for deaf or blind children
Duration : 2018-2019
Location: Special schools Phnom Penh (Phnom Penh Thmey and Chbar Ampov), Siem Reap, Battambang, Kampong Cham
Beneficiaries:  children with sensory disabilities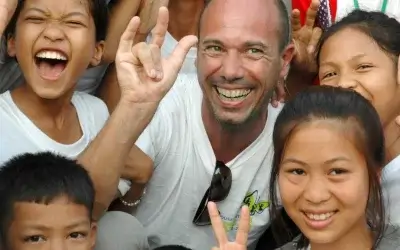 Benoît Duchâteau-Arminjon, founder of Krousar Thmey, received for the second time an award from World of Children honoring his action and that of the Foundation for the benefit of underprivileged children in Cambodia. Visit the page dedicated to Korusar Thmey To help...
read more