TOWARD INCLUSIVE EDUCATION FOR CHILDREN WITH LOW VISION
OBJECTIVE
Allow visually impaired students to follow their education on an equal footing in the public education system, and promote the integration of children with disabilities in Cambodian society.
PROJECT
Drawing on the experience gained over the past 20 years, Krousar Thmey has decided to experiment with a totally inclusive education system for visually impaired pupils in 12 districts, spread across 6 provinces of Cambodia.
In collaboration with People's Action for Inclusive Development (PAfID), a 3 year pilot project has been implemented, designed to identify children with low vision and facilitate inclusive education in the nearest school from their home.
After the success of this first implementation with 145 children following their school curriculum in public schools, Krousar Thmey's is now aiming at strengthening the skills of the stakeholders in order to ensure the autonomous management of the inclusive education system by the local authorities. In parallel, the association has already extended the project to 5 other districts, in Kampot province. This province will serve as a role model, thus highlighting the possibility of duplicating this system on a national scale.
ACTIVITIES
Screening and equipment of children with adapted optic devices
Training and capacity building of teachers and eye care professionals 
Publication of framewrok documents: curriculum and procedures for a quality acre of children with visual impairment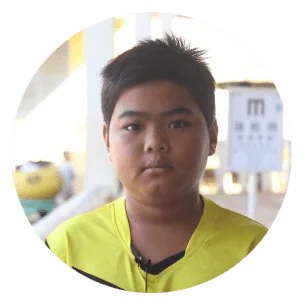 TESTIMONY
Sambo, 12 years old, benefiting from the low vision project
My name is Chour Sambo. I am 12 years old and I am studying in grade 4.
Read his story
I am very happy to be here to get my eye checked because I will finally find out if I need spectacles or not. I have eye issue since I was small child. It is really difficult for me to read especially on the whiteboard. I often cannot finish the sentence before the teacher erases the text. Hopefully, my teacher allowed me to sit in front as I told her my problem but getting spectacles would be very helpful to see the letter clearly. I want to do well in school and to get a better knowledge of the world around me.
MAKE A DIFFERENCE! 
1 250$
=
 eye screening tests
20$ = 1 adapted glasses
Area of work: inclusive education for children with visual impairment
Duration: 2014-2019
Location: province of Kampot 
Beneficiaries: children schooled in the mainstream system, teachers, eyecare professionals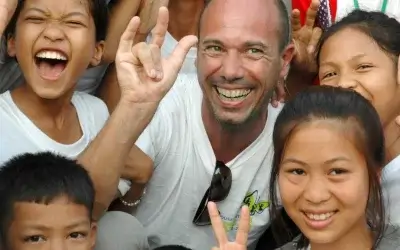 Benoît Duchâteau-Arminjon, founder of Krousar Thmey, received for the second time an award from World of Children honoring his action and that of the Foundation for the benefit of underprivileged children in Cambodia. Visit the page dedicated to Korusar Thmey To help...
read more