SUPPORTING THE SPECIAL SCHOOLS
OBJECTIVE
To offer blind or deaf children an education adapted to their disability, in line with the National Education program.
PROJECT
When children arrive at Krousar Thmey's special schools for deaf or blind children, they spend 3 to 5 years studying full-time in the school in order to learn Sign Language or Braille according to their disability. They are then enrolled part time in public school.
Blind or visually impaired children study in the morning or afternoon at public school from grade 3, and deaf or hearing impaired children from grade 5. The other half of the day, they benefit from tutoring at the special schools.
ACTIVITIES 
Courses in line with the national curriculum

Additional courses to better cope with their disability: orientation and mobility, speech therapy, etc.
Access to reading and adapted tools
Creation of a specialized teacher status in discussion with the Ministry of Education, Youth and Sports (MoEYS)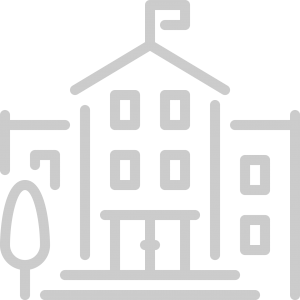 As stated in the agreement signed with the Ministry of Education, Youth and Sports, the special schools will be transferred under the competence of the Cambodian authorities by 2020.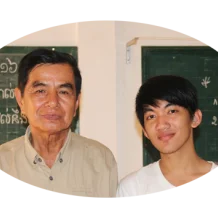 TESTIMONY
Menghay, deaf student in Kampong Cham school
Menghay joined Krousar thmey school in 2004. At that time, he was studying in public school, which proved to be challenging for him. Aged 14 years, he was only studying in grade 2.
Read his story
When he was spotted by the team of Krousar Thmey, his parents enthusiastically accepted to enroll him in a special school. Menghay returned to grade 1 in order to learn sign language. "I quickly progressed, developed my communication skills and made a lot of friends. From Grade 5, I joined public school. Although communication with other students was still difficult, I have been able to finish my studies, thanks to the support of the teams of the special school, where I benefited from extra classes." Menghay's father is overjoyed with his son's success. "He knows a lot more than before. Now he can write and speak in Khmer and English, and even communicate via Skype! ". His bachelor's degree in hand, Menghay now plans to meet with the guidance program team to discuss his future: he would like to enroll in a vocational training program in the hotel business.
MAKE A DIFFERENCE!
100$ = schooling expenses for 4 children for 1 year
30 $ = edition of a school manual in Braille
5$ = edition of a sign language manual  (around 8 subjects per student)
Area of work: Education for deaf or blind children
Duration: full transfer to the local authorities by 2020
Location: Phnom Penh, Siem Reap, Battambang, Kampong Cham
Beneficiaries : children with sensory disabilities, public education system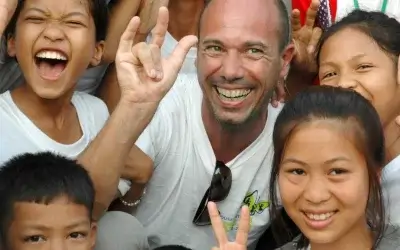 Benoît Duchâteau-Arminjon, founder of Krousar Thmey, received for the second time an award from World of Children honoring his action and that of the Foundation for the benefit of underprivileged children in Cambodia. Visit the page dedicated to Korusar Thmey To help...
read more