DEVELOPING CAMBODIAN SIGN LANGUAGE
OBJECTIVE
Support the development of a comprehensive Cambodian Sign Language, essentially implemented by Cambodian deaf people, rooted in the local culture
PROJECT
In the absence of a formalized sign language, Krousar Thmey decided in 1997 to adapt American Sign Language. In parallel, another organization, the Deaf Development Program, pursued the same goal. In 2013, the two organizations decided to join forces to create a common Cambodian sign language. As a result, a Sign Language Committee (SLC) was created with the responsibility of documenting and creating signs.
To help the committee members in their task, several training on linguistics of sign language, research for signs or production of adapted resources are regularly organized. The committee is continuing its documentation work in local communities and is collecting new signs on appropriate platforms to support the dissemination of the Cambodian Sign Language in the country.
ACTIVITIES 
Capacity building and training of committee members and specialized teachers
Search and documentation of signs
Development of dissemination tools based on new technologies
Sign language courses for communities

Everything begins by looking for signs currently existing or creating new ones. It's a real teamwork; to decide whether a sign is appropriate or not, first we need to understand the concept we are trying to express. To this end, our 'hearing' colleagues are of great help to us. From their explanations, we create the most appropriate sign, which will be easily
understood by all.
Read his story
Cambodia's deaf community faces many challenges: the first of them is the difficulty to communicate, due to uneven knowledge of the sign language. Few people have access to it, or to a non-formalized version, which leads to many misunderstandings. That is why the work of the Committee is essential. The other major problem is the difficulty of teaching to deaf or hard-of-hearing people. This requires using other communication channels, such as images or writing. New technologies are a great opportunity: they can be of great help for communicating. Various projects are under way, such as the creation of a specialized dictionary, accessible on computer or smartphone. This will work towards bringing down deaf people isolation, improving the quality of their relations with others and the education they can get will be greatly improved
Area of work: Education for deaf or blind children
Duration: 2018-2019
Location: Provnces of Phnom Penh, Siem Reap, Battambang, Kampong Cham, Kampot
Beneficiaries : people with hearing impairment throughout the country, communities, specialized teachers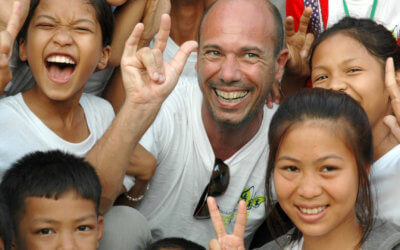 Benoît Duchâteau-Arminjon, founder of Krousar Thmey, received for the second time an award from World of Children honoring his action and that of the Foundation for the benefit of underprivileged children in Cambodia. Visit the...
read more